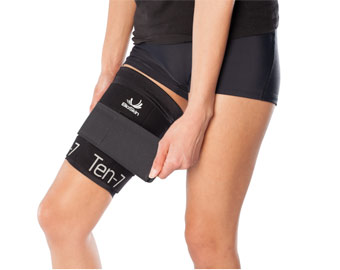 We have known and worked with BioSkin products for years and really appreciate the quality of their products and technology. Recently I reengaged with BioSkin and started a discussion around their Ten-7 product. They were nice enough to send me three samples. I gave them to three friends my age suffering with well-established knee pain, those diagnosed with OA knee from old sports injuries. They all were skeptical given I couldn't articulate how well it works, but they all agreed to give it a good trial.
All three reported significant pain relief and were very grateful after only one week. I have heard for years from my PT clients and friends that targeted compression and counter strengthening did provide early OA knee patients significant relief. I think the Ten-7 knee brace and PT would do wonders for so many patients. This product is not covered by insurance, though for under $200 retail it could change the quality of life and PT outcome dramatically. Call us if you have a patient in mind or would like to retail the Ten-7 at your clinic.
The short version: The Ten-7 applies high level compression around the muscles and other soft tissues in the thigh that are responsible for controlling and supporting the knee. EMG studies have shown that wearing the Ten-7 alters the firing patterns in the muscles of the legs, increasing the firing intensity of the glutes, while slightly decreasing the intensity in the quads and hamstrings.
You'll also notice when you wear the Ten-7 that your leg feels spring-loaded. Almost everyone who wears the Ten-7 describes the sensation of feeling like their leg wants to spring forward when they walk. If you feel like you've lost the spring in your step, the Ten-7 is an easy and inexpensive way to get it back.
Listen to the testimonials here:
https://www.bioskin.com/ten-7-free-your-knee