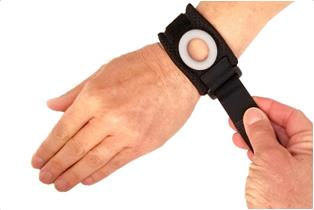 The Bullseye Wrist Band helps relieve ulnar-side wrist pain, supports Triangular Fibrocartilage Complex (TFCC) Injury and Distal Radioulnar Joint (DRUJ) Instability; ulnar-sided wrist pain experienced when gripping, pushing, pulling or turning the wrist from a palm-down to palm-up position.  Targeted compression made possible by Bulleye's unique silicone ring design.  Product features include:
Padded, non-elastic counterforce strap and soft silicone ring that fits around the ulnar head
Applies targeted compression to reduce ulnar-sided pain and inflammation while still allowing full range of motion
Supports distal radioulnar joint (DRUJ) without applying painful pressure on ulnar head or creating tourniquet effect
Performance material wicks perspiration away from skin and antimicrobial properties maintain freshness between washings
Clinic cost around $29 with free shipping.
Ask your MedStar NW representative for a sample today.